VXA Cartridges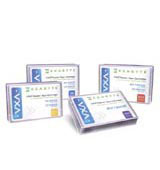 The AME Technology advantage - up to five times more usage

Exabyte now offers two series of tape cartridges for the entry-level server and small business backup environment.

Exabyte V Tape Series cartridges are compatible with VXA-1 and VXA-2 drives, and Exabyte X Tape Series cartridges are compatible with VXA-2 drives. Both series of media are available in a variety of lengths to meet the budget and the capacity needs of the user.

Exabyte VXAtape media's Advanced Metal Evaporated (AME) technology ensures that every VXAtape media cartridge is developed specifically to deliver the durability and capacity required for high-performance tape drives. With a shelf life of 30 years and a usage specification of at least 500 uses, VXAtape offers up to five times more usage out of each tape compared to DDS.

V23 media is not compatible with VXA-1 drives. V23 media is discontinued. X23 cartridges will replace V23 for use in VXA-2 and VXA-3 drives only. VXA-3 drives available soon from Exabyte.
Expedite shipping available
Call us for a price:

+31 6512 612 54
Imation, based in Oakdale, Minnesota, is a global technology corporation that describes itself as a global scalable storage and data security company. The company has three core elements:
Traditional Storage (magnetic tape and optical products)
Secure and Scalable Storage (data backup, data archive and data security solutions designed for small and medium businesses)
Audio and Video Information solutions and products
Imation was started in 1996, when 3M spun out its data storage business.