Sun StorageTek Virtual Tape Library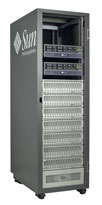 Key Benefits
Accelerate backup and recovery
Improve backup success rates
Increase data availability and regulatory compliance
Reduce data protection costs
Support consolidation from multiple backup servers and applications
Optimize performance, boost throughput, cut CPU overhead

Disk-to-Disk backup

In a single rack the Virtual Tape Library appliance is uniquely comprised of a server, disk storage and software. With the VTL storage appliance, you can improve the performance and reliability of existing backup and recovery application processes. The VTL appliance presents a variety of virtual tape drives, libraries, and tape cartridges to those applications. It will improve backup processes, meet recovery time objectives, and reduce costs. The appliance offers 3.8 to 70.3 terabytes (usable) of preconfigured buffer capacity.

Integrate Seamlessly with Your Backup and Recovery Software

The Virtual Tape Library (VTL) appliance solution integrates seamlessly with leading backup and recovery products and permits multiple backups to occur simultaneously and successfully. RAID-protected disk emulates DLT, SDLT, LTO, StorageTek T9840 and T9940 tape drives, and StorageTek L-Series tape libraries (L20 through L700e).

Step up to VTL Plus for higher availability

The new Sun StorageTek VTL Plus uses both the Sun StorageTek 6140 disk controller and SATA disk arrays as well as the Sun StorageTek 6540 lite controller and SATA disk arrays to further boost performance, capacity, density, and availability. These two controllers feature:
Redundant controllers for reliability
Hot-pluggable disk drives for replacements
Redundant and hot-swappable power supplies and fans
Non-disruptive capacity additions

Speed to burn

With up to 900 MB/second throughput the Sun StorageTek VTL (Series 3000) provides extreme performance for the most demanding enterprise data protection environments. Throughput on the Series 1000 performs at 300 MB/sec, making it an excellent choice for remote office and distributed data protection environments.

Choose the size and performance you need

StorageTek VTL appliance is available in three versions. The high-performance disk arrays are optimized for virtual tape and specifically configured for sequential or streaming workloads. Highly redundant configurations are also available as preconfigured systems. Depending on the series, you can add software features to meet special requirements: alternative host connectivity, compression, encryption, or remote replication.

Powerful Virtual Tape Software

Basic Software for the Series 2000 and 3000 appliances include IP replication, compression, encryption, iSeries/AS400 support, and NDMP support. The disk presents itself to the operating environment as tape, so you can preserve existing tape and backup procedures and protect your investment in backup software. Within your existing architecture, you can consolidate the management and provisioning of backup resources, share tape devices across multiple backup applications, and incrementally add new workloads without affecting tape configurations.

Tape caching (physical library integration)

The Tape Caching feature enhances backend tape support by implementing policy based migration from the VTL buffer to physical tape. Previous versions of VTL only migrated data manually, via explicit Export commands. With Tape Caching enabled, customers may now set up policies based on data age, buffer utilization (high water mark), schedule, etc., to automate this process.

Secure tape (encryption)

The Secure Tape feature encrypts data as it is migrated to physical tape. This means that data on tape is not exposed to inadvertent or malicious misuse. Secure tape everywhere.
Expedite shipping available
Call us for a price:

+31 6512 612 54
Sun Microsystems, Inc. was a company that sold computers, computer components, computer software, and information technology services. On January 27, 2010, Sun was acquired by Oracle Corporation. In 1987, the company began using SPARC, a RISC processor architecture of its own design, in its computer systems, starting with the Sun-4 line. SPARC was initially a 32-bit architecture (SPARC V7) until the introduction of the SPARC V9 architecture in 1995, which added 64-bit extensions. Since 2010, all further development of Sun machines based on SPARC architecture (including new Oracle SPARC T-series servers, SPARC T3 and T4 chips) is done as a part of Oracle Corporation hardware division. The Java platform was developed at Sun in the early 1990s. Sun sold its own storage systems to complement its system offerings; it has also made several storage-related acquisitions. On June 2, 2005, Sun announced it would purchase Storage Technology Corporation (StorageTek).