TimberLine 9490 M32 M34 M44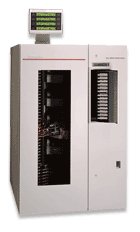 Designed specifically for use in demanding manual tape storage environments, the TimberLine 9490-M44 is the latest enhancement to the TimberLine 9490 high-performance tape subsystem.

The combination of StorageTek's(R) 36-track TimberLine tape drive and StorageTek's PowderHorn(R) tape library position the company as the market leader in high-end tape automation. However, industry research shows that about 60 percent of the 3480/3490-compatible technology continues to operate in the manual mode.

The product announced today combines in a single frame the TimberLine tape drive -- the world's fastest 36-track ESCON and SCSI-2 tape cartridge subsystem -- with the industry's highest capacity cartridge stacker loader.

StorageTek's new TimberLine 9490-M44 reduces the overall footprint configuration by up to 30 percent over competitive manual storage products. The TimberLine's totally parallel 1-by-1 controller transport architecture and modified frame make the product smaller, efficiently using available floorspace, which is critical to the consolidation of data centers.

The TimberLine 9490-M44 is the perfect upgrade solution for manual operations currently using older 3480/3490- compatible tape technologies, which tend to be less efficient and require higher maintenance costs. It is also the ideal storage platform for those needing a manual deployment solution with very high performance to keep pace with the increasing number of enterprise applications.
Expedite shipping available
Call us for a price:

+31 6512 612 54