FAS6000 Series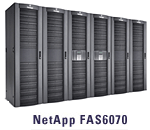 The FAS6000 series is designed for the largest enterprise applications as well as demanding technical applications. Two models are available: FAS6030 and FAS6070.

Highly Scalable
The FAS6000 series offers the scalability of frame array systems in flexible, modular storage architecture. The FAS6030 can be configured with 840 disk drives totaling 420TB of capacity. The FAS6070, which scales to 504TB spread across 1,008 disk drives and has 64GB/sec of internal data bandwidth, can handle the largest enterprise applications.

Effective Consolidation
The FAS6000 systems are ideally suited for storage consolidation supporting hundreds of applications because they are not only highly scalable but also very flexible. Tiered storage can be implemented in one system using cost-saving SATA disk drives and high-performance FC disk drives. Data can be stored either in file or block format. Supported protocols include FCP, NFS, CIFS, HTTP, and iSCSI for the greatest flexibility.

The Data ONTAP™ 7G operating system includes two standard features, FlexVol™ and FlexShare™, which improve the effectiveness of consolidation. FlexVol creates volumes that can be readily expanded or contracted while reducing the need for spare capacity. FlexShare enables the consolidation of disparate workloads by ensuring that critical workloads get fast response.

High Availability
A full range of high availability and disaster recovery options are offered with the FAS6000 series. However, NetApp goes beyond the data center baseline for availability. Dual-parity RAID, for example, provides a high level of data protection with negligible performance impact. Similarly, the NetApp implementation of Snapshot™ copies has no performance impact and requires very little incremental storage, so Snapshot copies can be taken frequently. The result is unparalleled application-level availability with recovery in minutes, not hours, after a failure or human error.

Robust SAN NetApp supports a complete Fibre Channel SAN infrastructure with a full range of certified hosts, adapters, switches, and directors. The FAS6000 systems are also capable of 4Gb FC SAN implementations.
Expedite shipping available
Call us for a price:

+31 6512 612 54