FAS3000 Series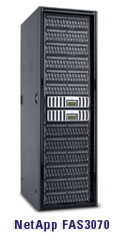 Versatile SAN & NAS storage systems delivering exceptional value.

FAS3000 series systems are NetApp's midrange products for Enterprise applications. FAS3000 systems deliver exceptional capabilities for both business and technical applications, across both SAN and NAS environments.

Unmatched Management Simplicity
The FAS3000 is powered by the easy-to-use Data ONTAP® 7G storage operating system, which enables an increase of up to 2X in "managed TB per administrator."

Exceptional Value
FAS3000 systems deliver proven lower TCO and higher storage utilization. With dual-parity RAID-DP, low-cost SATA disks can be used for production applications.


Outstanding Scalability And Performance
FAS3000 systems scale to over 250TB, and studies reflect that FAS3000 systems deliver exceptional FC SAN performance.

Easy Upgrade Path
NetApp customers can easily upgrade through the FAS3000 family and then to the high-end FAS6000, as all FAS systems are fully compatible.

Unique Versatility
FAS3000 systems can be used for SAN and/or NAS-based applications, and for primary or secondary storage.

Superior Application-Level Availability
Unique low-overhead snapshots, integrated with key business applications via NetApp SnapManager products, enable application-level recovery in minutes, not hours or days.

Highly Responsive to Business Needs
With the ability to rapidly provision, clone, backup, recover, and scale, FAS3000 systems provide a storage infrastructure that effectively responds to constantly changing business needs.
Expedite shipping available
Call us for a price:

+31 6512 612 54