EMC Connectrix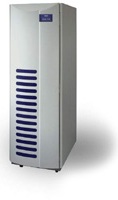 The EMC Connectrix Family is part of EMC's networked storage offering. The connectrix family consists of two classes of SAN solutions: Connectrix Enterprise Switches and Connectrix Enterprise Directors.

EMC Connectrix Fibre Channel Switches enable highly available, heterogeneous access to companies ever-expanding information storage environment.

With Connectrix Enterprise Directors, companies get greater levels of modularity, fault-tolerance, and expandability as compared to those offered with Connectrix Switches. Connectrix Directors deliver the necessary scalability and availability attributes required by the most mission-critical SAN-based applications.


Expedite shipping available
Call us for a price:

+31 6512 612 54