EMC CLARiiON CX Series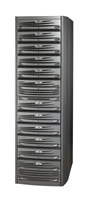 EMC CLARiiON CX3 UltraScale solutions provide exceptional reliability and availability, plus advanced capabilities enabling seamless growth—along with new levels of consolidation. Choose the performance, capacity (up to 237 TB), and capabilities you need. And get the flexibility to upgrade when your needs change. All at prices that match your budget. EMC CLARiiON CX3 systems include:
CX3 model 10: Cost-effective entry point to the advanced capabilities of the CX3 UltraScale series.
CX3 model 20: Flexible solution that meets your storage requirements for mail/messaging, databases, file/print, Web services, distributed applications, and more.
CX3 model 40: High performance and capacity for high-bandwidth applications, heavy OLTP or e-mail workloads, and other demanding applications.
CX3 model 80: World's largest, most powerful midrange storage array, scaling up to 237 TB—for the most data-intensive workloads and large-scale consolidation.

Unbeatable reliability and availability.

EMC CLARiiON's UltraPoint Technology includes unique high-availability and data-integrity features that keep your information available and protected at all times. Intelligent technology maximizes reliability and availability—including dual redundant storage processors, local and remote replication, mirrored memory, and battery backup. The technology is sophisticated but the result is simple—your storage is reliable, and your information is available. All the time.

Get high performance at a lower price.

Your business needs to keep costs low while still handling the most demanding workloads—from online transaction processing to backup to disk. CLARiiON uses advanced, cost-effective technology to deliver the best price/performance in midrange storage. The innovative EMC CLARiiON CX3 UltraScale architecture brings you end-to-end 4 Gb/s bandwidth and exceptional scalability—all at a lower price.

Put your data where it matters most.

CLARiiON is the only midrange storage solution that delivers "in-the-box" data movement within and between tiers of storage—so you can get your information where you want it. All via simple, automated, non-disruptive data mobility. Move data transparently within an array with Virtual LUN Technology. And replicate data across arrays with EMC SAN Copy.

Make the economical choice.

CLARiiON delivers exceptional value throughout its lifecycle. Mix high-performance and high-capacity drives for economical tiered storage. Or integrate Fibre Channel and iSCSI technology in a single CLARiiON CX3 model 10, CX3 model 20, or CX3 model 40—an economical approach that lets you share management and functionality. And for cost-effective consolidation, with the CLARiiON CX3 series you can bring together more applications in a single array—and support up to 237 terabytes.

Keep operations simple and easy.

All CLARiiON systems are designed to be easy to install, manage, and scale to help you save time and keep costs low. The EMC Navisphere Management Suite streamlines management and simplifies key tasks via wizard-based tools. Monitor and enforce performance objectives with EMC Navisphere Quality of Service Manager—optimizing performance in your multi-application environment. With CLARiiON, installation, serviceability, and upgrades are all easier and faster than with alternate systems. And as always, all are backed by EMC top-rated service and support.

Get advanced data mobility, protection, and replication capabilities. With CLARiiON CX3 you get advanced operational recovery and disaster recovery software functionality for maximum protection of your critical information:
Increase application availability while reducing backup windows with EMC SnapView local replication and Replication Manager software.
Ensure information is protected from system and site failures with EMC MirrorView remote replication and EMC RecoverPoint/SE software for CLARiiON.
Copy and migrate data between CLARiiON networked storage systems and qualified storage systems via EMC SAN Copy.
Expedite shipping available
Call us for a price:

+31 6512 612 54